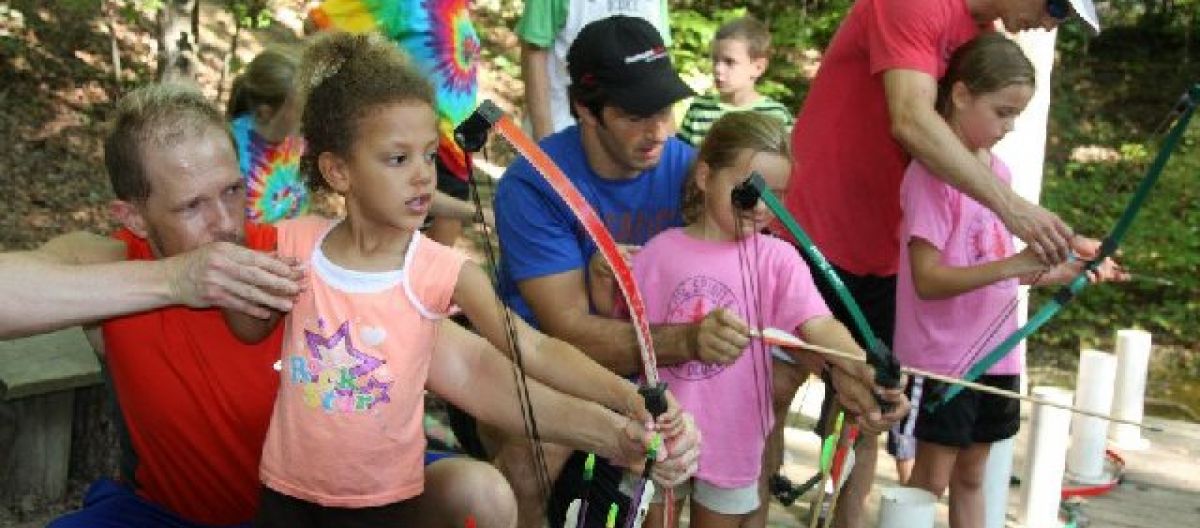 The YMCA Adventure Princess Program is for fathers (uncles, grandfathers, male adult friends) and their daughters (5-11 years).   
Through the Adventure Princess Program, parents* and children develop healthy relationships, gain a sense of belonging, and learn the importance of giving back to the community through one-on-one interactions, activities with other families, and community service projects. At the heart of the program are the Compass Points, which give members a sense of direction and an inspiration for activities. 
• Family. Family is "true north"—the focal point of the program.
• Nature. The natural world and the camping experience are integral parts of the program.
• Community. The spirit of the program is experienced through belonging to a small Community—the Tribe, and a larger body—the Nation.
• Fun. Fun is the magic of the program. The Y's core values—caring, honesty, respect, responsibility, and faith—make up the other guiding principles of the program.
What We Do
The Y Guides program is action-oriented! Tribes meet once a month. Each Tribe meeting rotates amongst member's homes with fun activities such as games, crafts and stories. Meetings may also involve outings such as camping, community service projects, hiking, cookouts and much more. Both father and child receive awards and patches for their accomplishments.
Nation Events
In addition to the monthly tribe meeting, all adventure Princess Tribes can participate in various larger events throughout the year. Nation Events include the Fall and Spring Campouts at Camp Ocoee, ice skating and bowling at local venues, the annual Father Daughter Dance, and various service opportunities. Check out our events calendar to see what the upcoming year looks like!
Registration Info & Program Fees
To join the program, you have a couple of options. If you already know of an existing Tribe you want to join that is accepting new members, please complete the registration form below noting the Tribe name. If you are looking to find a Tribe, we can help! Fill out the "Find a Tribe" portion of our registration form and we will get you assigned to a Tribe. If you would like more information on how to start your own tribe, please email Chelsea Schwabe.
Program fees are based on how many children you have in the program, dads are free. These cover one program year, which is roughly the same as a traditional school year calendar. Program fees include program materials, patches for the year and planing and coordination of monthly Nation Events.
$40 per Dad & Child

Each additional child is $10
Additional costs that can be expected during a program year include Tribe vests to display any patches earned and any Nation Event registration fees.
For more information, contact: 
Chelsea Schwabe
423.338.5588